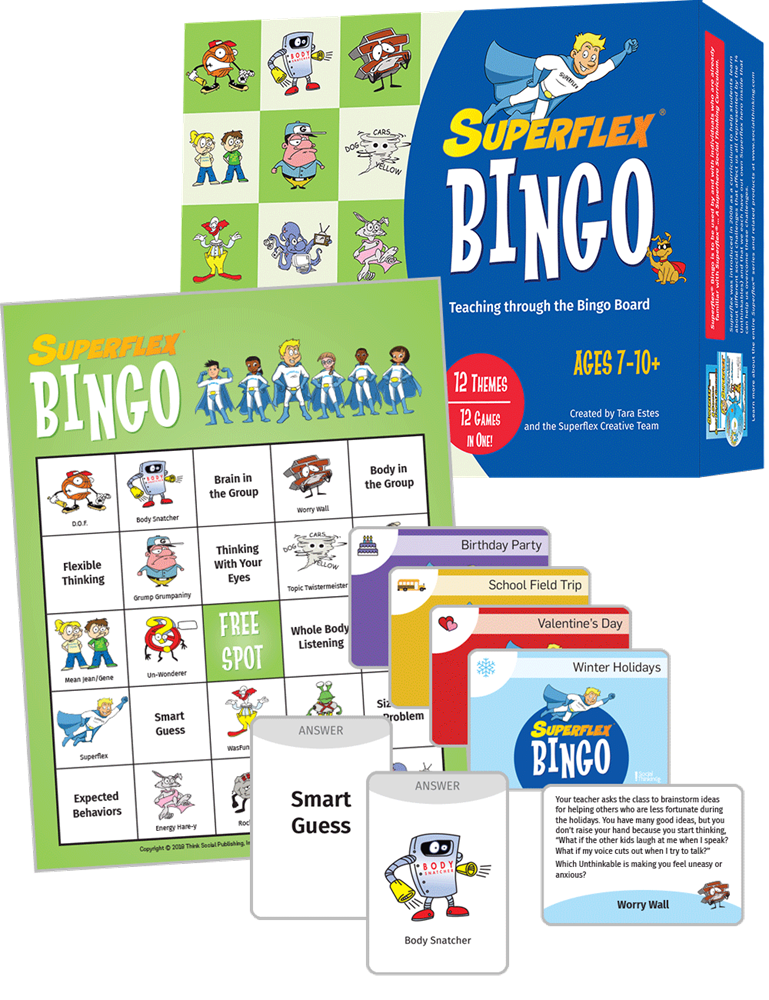 ---
Superflex® Bingo provides a framework for kids to learn a variety of social concepts while actively thinking about the powers of Superflex characters. Kids practice perspective taking as they imagine themselves and their own thoughts and feelings—and those of others—in different situations. They also continually explore Social Thinking Vocabulary concepts such as thinking with your eyes, body and brain in the group, expected and unexpected behavior, identifying the size of the problem, etc. (Learn about these concepts and how to teach them in our free webinars.) As students become familiar with these social concepts and more, they build skills that ultimately lead to social problem solving and self-regulation.
Getting started
Designed for 1 – 10 players, ages 7-10+, plus an adult to lead/facilitate game play. (Since the game is designed with teaching in mind, it's not recommended that students play the game without the adult facilitator.)
Session time: 25-30 minutes for a typical game.
Instructions booklet offers adaptations and modifications so the game can be used flexibly with different size groups and players with varying levels of social understanding.
What's included?
10 Bingo Boards: No two boards are alike; squares are arranged differently yet each board contains the same 25 squares.
12 Themed Card Decks: Each deck contains 24 Bingo Situation Cards that are read aloud to the group.
24 Answer-Definition Cards

 

that match the characters and vocabulary as they appear on the Bingo Boards. One side shows the character or vocabulary term, the other side has either a definition of the character's powers or the vocabulary term. These cards can be used by the adult to indicate the correct answer to the situations read aloud, as visual cues, and to prompt discussion about the concept or character.
300 bingo chips
Instructions booklet
Authors:  
Published: 2018
Publisher: Think Social Publishing, Inc.
Format: Game
ISBN: 

9781936943517
---
Share this Product
---
More from this collection