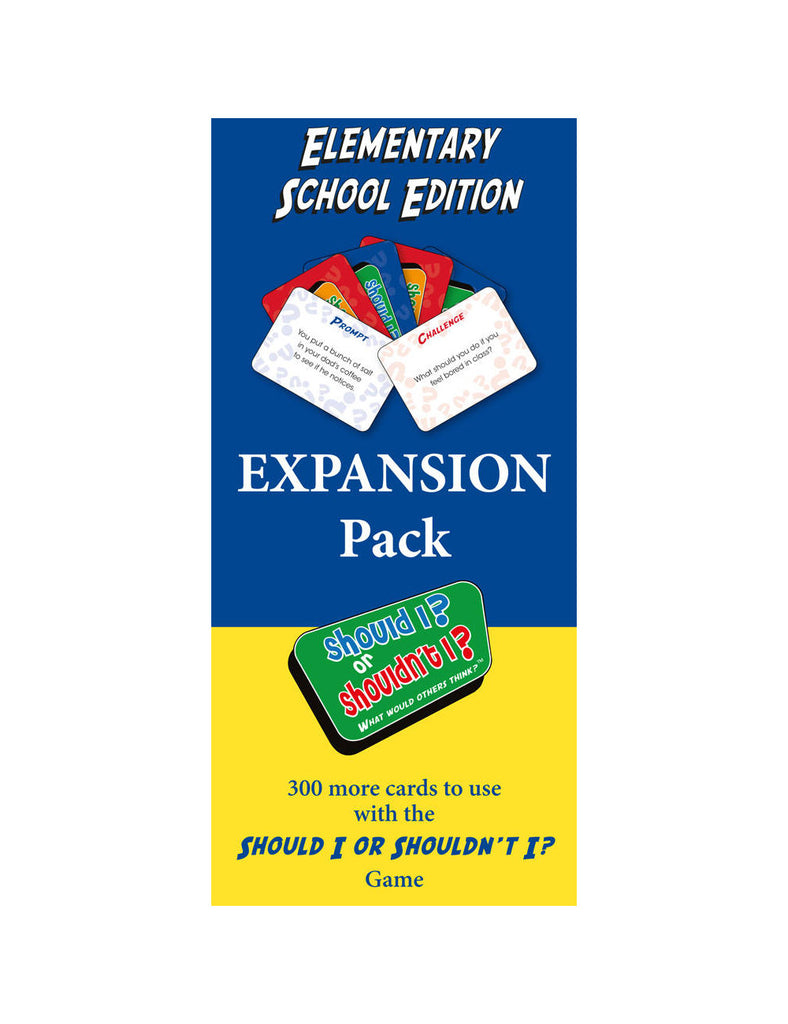 Should I? or Shouldn't I? Elementary School Expansion Pack
---
 Double your playing fun with the Should I or Shouldn't I? Elementary Expansion Pack! This product is an add-on to the original Should I or Shouldn't I? What Would Others Think?™ Elementary Edition game. In the game, players ages 8-11 rate a behavior in a particular context on a scale based on whether the behavior was expected or not, and then compare how their perceptions match (or don't) those of the other players. Teachers, clinicians, and families have been playing this game so often that they've gone through all the playing cards and have been asking for more. Well--we listened!
The expansion pack includes 200 NEW Prompt cards and 100 NEW Challenge cards that cover various age-specific topics encountered at school, at home, and in the community. Add the new cards to your existing game decks or use them on their own to prompt deep discussion and learning on perspective taking, self-awareness, and executive functioning.
Contents   
200 Prompt cards to practice perspective taking
100 Challenge cards that help generalize and deepen learning
NOTE: ORIGINAL GAME MATERIALS ARE NOT INCLUDED. Expansion pack only contains extra prompt cards and challenge cards.
Looking for something for older kids? Check out the Should I? or Shouldn't I? What Would Others Think?™ Middle and High School Edition Game and Expansion Pack!
Author: Dominique Baudry
Published: 2016
Publisher: Think Social Publishing, Inc.
Format: Game
ISBN: 9781936943500
---
Share this Product
---
More from this collection