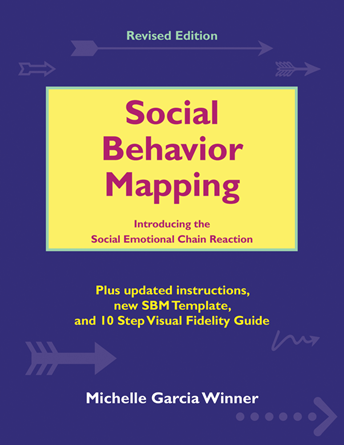 Social Behavior Mapping - Connecting Behavior, Emotions and Consequences Across the Day
---
The Framework
What's happening around us influences our thoughts and feelings, reactions and responses. Social Behavior Mapping, a core treatment framework within the Social Thinking Methodology, is a visual template that helps users figure out the hidden social rules of a given situation based on what is happening and the people present. It also outlines a fundamental social concept we call the Social-Emotional Chain Reaction: how we act in a specific situation affects how others feel, how we make others feel affects how they treat us, and how we are treated affects how we feel about others and, ultimately, about ourselves.
We start by teaching individuals to observe others across different situations and identify the expected and unexpected behavior they notice and the impact this has on others' thoughts, emotions, reactions and responses. Over time, we gradually extend the learning to teach the full Social-Emotional Chain Reaction by having individuals observe their own behavior, recognize how it impacts others, and connect how others' responses impact how they themselves think and feel. Social Behavior Mapping makes the complicated process of how we all affect one another's thoughts, feelings, and actions visual and concrete!
The Book
The book Social Behavior Mapping has been around for over a decade, but we recently updated the introduction with our current thinking. The latest edition includes:
50+ completed Social Behavior Maps (SBMs) for practical everyday situations that happen at school, home, and in the community (these compose the majority of the book and are unchanged in this edition). These maps are examples for you to reference when helping your student or client fill out a blank map. We hope the maps will inspire you with ideas of how to develop your own customized situations relevant to the individuals with whom you work. They are also helpful in teaching how to first observe behaviors in others prior to teaching awareness of one's own behavior and its impact on others.

1 blank map template that can be photocopied and used again and again.

A description of the Social Emotional Chain Reaction (SECR), the foundational concept taught in Social Behavior Mapping.

The 10-Step Visual Guide and supporting instructions to teach the framework with fidelity.

Suggestions for using SBMs with individuals younger than age 9.
Check out this article for more information on Social Behavior Mapping.
Authors: Michelle Garcia Winner
Published: 2007
Publisher: Think Social Publishing, Inc.
Format: Paperback
Pages: 108
ISBN: 9780979292200
---
Share this Product
---
More from this collection