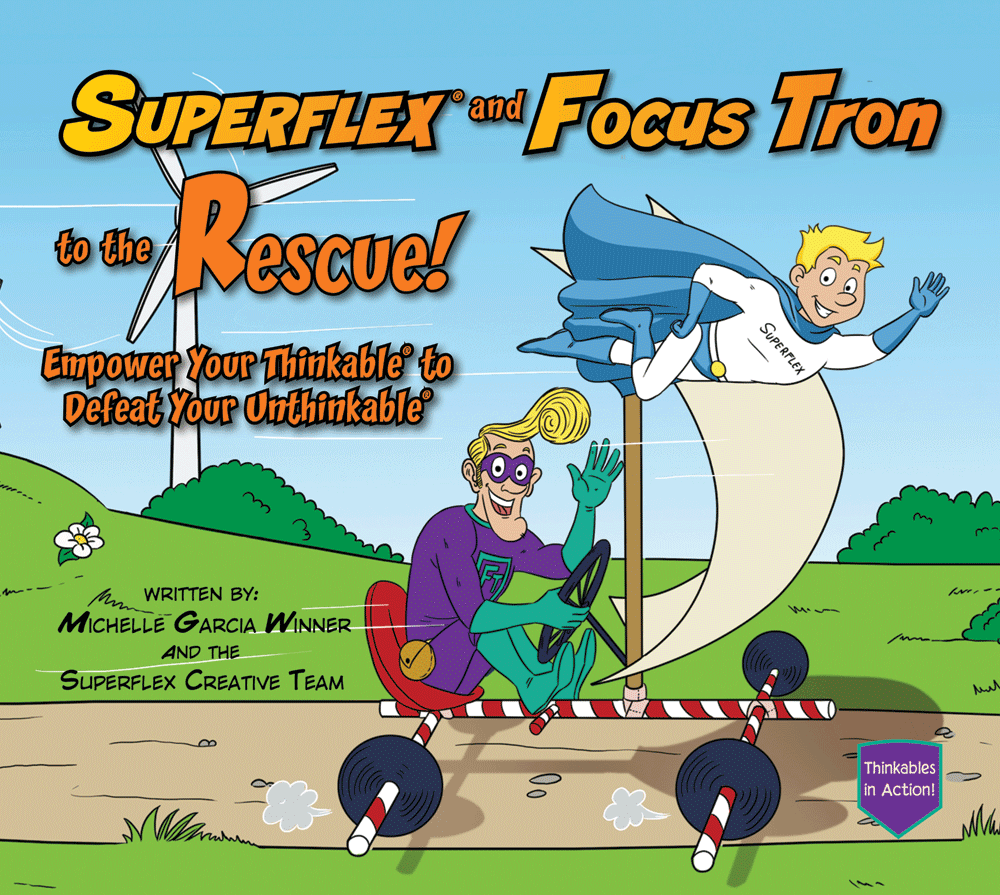 Superflex and Focus Tron to the Rescue!
---
Superflex and Focus Tron to the Rescue! introduces readers to the Thinkable Focus Tron. Wherever they are—at school, or home, in the community—Focus Tron helps Social Town citizens remember to use their focusing powers to stay connected to what they're doing or what others are talking about. In the story, Sarah periodically get visits from the Unthinkable Brain Eater who distracts her thoughts away from her classwork, homework, and listening to the teacher. Thanks to a lesson from the Superflex Academy and assistance from Focus Tron and other Superflex pals, she learns strategies to keep her thoughts on track.
This engaging book is part of our Superflex series, which is designed to help children learn about their own and others' thoughts and behaviors, and practice strategies for self-regulation across a variety of situations. As kids learn strategies to defeat the Unthinkables and unexpected behavior, they strengthen their flexible thinking and are better able to self-regulate in challenging times.
This illustrated storybook connects to and supports these Social Thinking Vocabulary concepts:
Using your Social Detective smarts to observe what's going on.
Social attention/observation: what are other kids doing/how are they reacting?
Using positive self-talk to keep trying Cranium Coach of the Five-Step Power Plan
Making a smart guess about what's happening
Keeping body and brain in the group
Strategies to defeat Brain Eater: using a fidget, using a Superflex Distracter Shield (download yours below), breaking down big tasks into smaller pieces
Adults who are using the Superflex curriculum and concepts can use Superflex and Focus Tron to the Rescue! in several ways:
To help children celebrate their ability to defeat Brain Eater when he appears
To teach how calling upon Focus Tron can help them pause and think about options in times of uncertainty or distraction
As a companion book to Brain Eater, to help children compare and contrast the inner workings of their brains in tackling everyday social challenges related to distraction and mental focus
Use the Focus Tron image as a visual reminder to students to stay focused or get focused within a situation
In situations where students find it fun to act out ONLY the negative powers of the Unthinkables, use Focus Tron to shift attention to the positive powers for defeating Brain Eater. Focusing exclusively on the negative powers prevents students from learning how to defeat the Unthinkable!
Focus Tron can help when other Unthinkables invade a student's brain alongside Brain Eater—One-Sided Sid, Body Snatcher, Energy Hare-y, etc.
Download the Superflex Distracter Shield!
One of Focus Tron's strategies for avoiding distraction is to place a Superflex Distracter Shield on items in a room that steal attention away from the current activity (such as computer screens, TVs, Legos, books, etc.). Download the Distracter Shield and print as many as you would like to put around the classroom, clinic, and home! Have kids color and personalize their shields to help them feel empowered by this strategy.
Recommended Teaching & Learning Pathway
New to the world of Superflex? Explore what it's all about in this article, and learn strategies for teaching self-awareness and self-regulation in our Superflex eLearning series . Before sharing this book with children, parents and educators need to start at the beginning, introduce core concepts, and work through the Superflex curriculum. Books should be introduced in this order:
Once kids have reached this point, you can choose from an array of Superflex products to teach depending on the concepts your kids need to work on. To dive deeper into strategies for defeating distractibility, for example, move on to the books listed below. 
Authors: Michelle Garcia Winner
Published: 2018
Publisher: Think Social Publishing, Inc.
Format: Paperback
Pages: 32
ISBN: 9781936943494
---
Share this Product
---
More from this collection