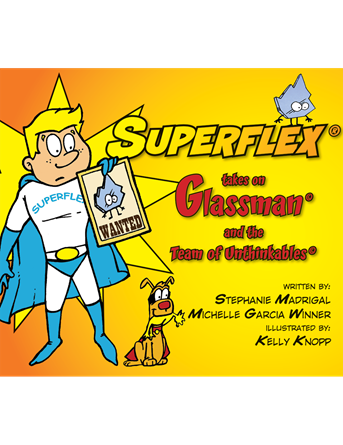 Superflex Takes on Glassman and the Team of Unthinkables
---
In this teaching comic book in the Superflex® series, the superhero, Superflex, swoops down to help Aiden overcome the Unthinkable, Glassman (who causes our over-reactions to small things), at just the right time: the first day of school! This very popular comic book works well with K-5 students.

Superflex shows elementary school students how they can use strategies to conquer their own "Team of Unthinkables," including Glassman and other characters. In the process, students learn to calm Glassman and ways to assess the size of problems and other issues. As students face Glassman and other Unthinkables, they build up and learn to flex nimble, new mind muscles -- thinking skills that help them manage and work on the thoughts and behaviours that may be causing them problems.

The step-by-step strategies and lessons in this book guide students, with their teachers and parents, through a full "training session" in their own Superflex academy. Quizzes and tip sheets are built into the book. By teaching students to explore the differences between Superflex and the student's own motley crew of Unthinkables, students can better understand and modify their behaviours and, as they progress and graduate from the academy, see the rewards of doing so!
How to Use the Book
This 67-page teaching comic book is the 2nd publication in a series about Superflex and how he outsmarts  the "Team of Unthinkables." This curriculum is laid out in Superflex.. A Superhero Social Thinking Curriculum and its related comic, Rock Brain. It is strongly recommended that readers of this new comic book read the first book and be aware of the concepts of the Social Thinking curriculum for students with higher-functioning autism, Asperger's, ADHD and similar communicative challenges, diagnosed and not.  

Prerequisite books to make the Superflex curriculum most effective include Thinking About YOU Thinking About ME and You Are A Social Detective. You Are A Social Detective is the first book to read with students prior to introducing the Superflex lessons, as this book teaches the core Social Thinking Vocabulary to use. If you are running Social Thinking groups or otherwise working more intensively with students, you will also want to become familiar with more core concepts in the books Thinking About YOU Thinking About ME and Think Social! A Social Thinking Curriculum.
About the Authors
Stephanie Madrigal, speech-language pathologist, is a clinician and Social Thinking trainer specializing in persons with social-cognitive learning challenges at the Social Thinking Center. She is an innovative and creative therapist and curriculum developer. In addition to her ongoing development of the Superflex curriculum and her work with students, she also presents day-long social thinking workshops, training and consulting to various professionals, school districts and parents. She received her B.A. and M.A. from San Jose State University in San Jose, CA.

Michelle Garcia Winner is a speech-language pathologist, MA, CCC-SLP, who coined the term "Social Thinking" as well as the related treatment strategies. She runs a small clinic in San Jose, CA, works with clients, consults, develops training materials and travels internationally giving workshops.

Kelly Knopp is an illustrator and graphic designer living in Boise, ID. "It's such a great thing to take a creative thought and transfer it to paper," he says.
Authors: Stephanie Madrigal,Michelle Garcia Winner
Published: 2009
Publisher: Think Social Publishing, Inc.
Format: Paperback
Pages: 67
ISBN: 9780979292293
---
Share this Product
---
More from this collection