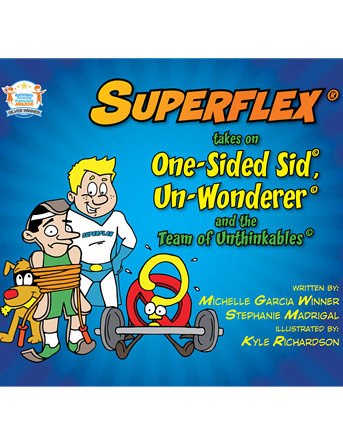 Superflex Takes on One-Sided Sid, Un-Wonderer and the Team of Unthinkables
---
Superflex Takes On One-Sided Sid, Un-Wonderer and the Team of Unthinkables introduces readers to the Unthinkable One-Sided Sid, who uses his powers to make people talk only about their interests or themselves, and his sister sidekick Un-Wonderer, who uses her powers to keep people from thinking about others. In the story, the clever duo One-Sided Sid and Un-Wonderer are wreaking havoc at Social Town Elementary by invading the brains of kids and getting them to do or say things that show they're only thinking about themselves and not others. Superflex to the Rescue! A multitude of lessons from the Superflex Academy teaches kids strategies for thinking about others and asking questions by using people files, boredom alerts, the Interest-O-Meter, Add-a-Thought, and much more. Short quizzes pop up throughout the book to reinforce learning.
This engaging book is part of our Superflex series, which is designed to help children learn about their own and others' thoughts and behaviors, and practice strategies for self-regulation across a variety of situations. As kids learn strategies to defeat the Unthinkables and unexpected behavior, they strengthen their flexible thinking and are better able to self-regulate in challenging times.
Recommended Teaching & Learning Pathway

 
New to the world of Superflex? Explore what it's all about in this article, and learn strategies for teaching self-awareness and self-regulation in our Superflex On Demand series. Before sharing this book with children, parents and educators need to start at the beginning, introduce core concepts, and work through the Superflex curriculum. Books should be introduced in this order:
Social Thinking and Me

Teach BEFORE or alongside teaching the Superflex curriculum if working with kids ages 9-12.
Once kids have reached this point, you can choose from an array of Superflex products to teach depending on the concepts your kids need to work on. To dive deeper into strategies for thinking and talking about others, for example, read this book about One-Sided Sid and Un-wonderer next!
Authors: Stephanie Madrigal, Michelle Garcia Winner
Ages: 7-10+
Pages: 74
Format: Paperback
ISBN: 9780970132055
Published: 2013
---
Share this Product
---
More from this collection