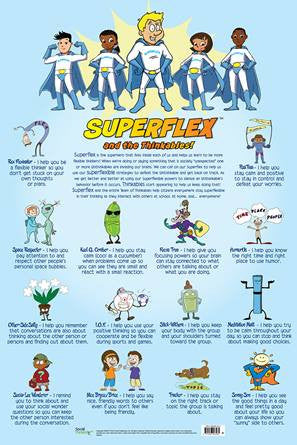 Superflex Thinkables Poster
---
Thinkables are being seen around Social Town everywhere now as children are learning to use their superflexible thinking strategies to defeat their Unthinkables. Each Thinkable character is a counterpart to the Unthinkable character/challenge, and adds to a person's superflexible powers to defeat the Unthinkables. Our Thinkables represent the expected thinking and behaviours that kids learn through the use of our related curriculum. Several Superflex characters, representing our students' gender and ethnic diversity, are at the top of the poster to remind students that Superflex represents the superflexible social thinking that's in each of us. When we use our flexible thinking our Thinkables, who are part of Superflex's team, start showing up!
The poster displays each of the 14 Thinkables, their names, and each of their powers. A great visual tool to supplement the Superflex Superhero Curriculum and for use in the classroom, clinic, or at home – anywhere flexible thinking and encouragement is needed! Pair it with the new Superflex Unthinkables Poster to reinforce teaching and learning. When you compare the two posters, you will see that the Unthinkable and their matching Thinkable are placed in the exact same location on each poster. And, check out the free Superflex is Me! lesson and download on the Social Thinking website: kids can draw their own Superflex!
Dimensions: 24" width x 36" length  (609.60 mm x 914.40 mm)
Authors: Michelle Garcia Winner
Published: 2015
Publisher: Think Social Publishing, Inc.
Format: Poster
Pages: 1
ISBN: 9781936943265
---
Share this Product
---
More from this collection