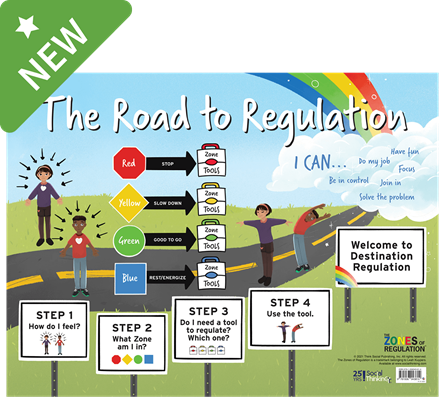 The Road to Regulation Poster | The Zones of Regulation Series
---
Adapted from the colorful 2-page layout in The Regulation Station storybook, this 24" x 18" poster summarizes lessons taught throughout The Zones of Regulation 2-Storybook Set. The poster is an in-the-moment reminder of the four steps needed to (1) recognize your feelings, (2) identify your Zone, (3) choose a tool, and (4) use the tool to help regulate your feelings experienced across different situations. Use the poster at home, school, or clinic to review information with children while reading the 2-storybook set, support corresponding lessons from The Zones of Regulation curriculum, and when exploring the Tools to Try Cards for Kids card deck to practice over 50 strategies to find the tools that best help them self-regulate at school, at home, or in the community. The poster is not dry-erase and is not intended to be written on.

This full-color poster is perfect for those spontaneous social learning moments, as well as a powerful visual support when using any of The Zones of Regulation products. Each product is sold separately or can be purchased in discounted bundles:
The Zones of Regulation 2-Storybook Set
Join Gabriel and his classmates as they learn about The Zones of Regulation through two storybooks. The first storybook, The Road to Regulation, helps students become more aware of their bodies and feelings and describes the four colored Zones of Regulation used to think and talk about these feelings. Through a colorful, imaginary adventure to "The Regulation Station," the second storybook introduces the use of "tools" (or metacognitive strategies) to help students identify ways they can learn to manage their different feelings at school and home. Use this two-storybook set with relatable characters and situations to help children at developmental ages 5-11 learn the easy-to-use framework and the popular self-regulation curriculum. These storybooks are intended to be used in sequence, alongside related lessons within the curriculum book, The Zones of Regulation.
Tools to Try Cards for Kids
Learning to regulate our Zones takes time and lots of practice. Tools to Try Cards for Kids is an easy-to-use, engaging way to introduce over 50 regulation strategies to kids ages 5-11 and empower them to make choices toward figuring out what works best for them. Every card portrays a relatable child performing a regulation tool on one side and a how-to-do-it description on the reverse. Each card includes a metacognitive self-reflection where kids consider how they feel after using the tool, how it can be used to help them regulate their Zones, and decide whether it's the right tool for them. This hands-on, multisensory card deck supplements The Zones of Regulation curriculum and pairs well with the Navigating The Zones cooperative game and The Zones Storybook Set. 
The Zones of Regulation: A Curriculum Designed to Foster Self-Regulation and Emotional Control
This popular "Zones" framework and easy-to-use curriculum teaches strategies for managing emotions and sensory needs to children, students, and clients ages 4+. Rooted in cognitive behavioral therapy, The Zones of Regulation uses four colors to help individuals identify how they are feeling in the moment given their energy, emotions, and level of alertness, thereby creating a colored system to guide them to metacognitive strategies and tools to support regulation. By understanding how to read their bodies, detect triggers, think about the social context, and consider their reactions, students learn how to increase their ability to regulate their emotions, manage their sensory needs, and become more self-aware and skillful problem solvers. Printable activities and visuals are included on a USB. All products which extend teaching about The Zones of Regulation require the use of this curriculum to teach with fidelity.
Navigating The Zones
Navigating the Zones is a unique and fun cooperative game expands the teachings of The Zones of Regulation curriculum. It introduces the concept of "The Zones Pathway" via a board game that encourages interaction by using a variety of card decks to explore diverse situations, emotions, and related regulation tools. This flexible teaching tool is non-competitive by design. Players collaborate, working together to navigate through different social scenarios and their related feelings while incorporating tools and problem-solving strategies to support regulation.
Please note: Interventionists should be actively teaching or have taught students core Zones of Regulation concepts and vocabulary from activities introduced in the core curriculum, The Zones of Regulation. This game is not designed to be a stand-alone social emotional learning tool.
Note: The Road to Regulation Poster does NOT have a dry-erase finish.
Authors: 
Ages: 5-11
Format: Poster
ISBN:

9781936943814

Published: 2020
---
Share this Product
---
More from this collection