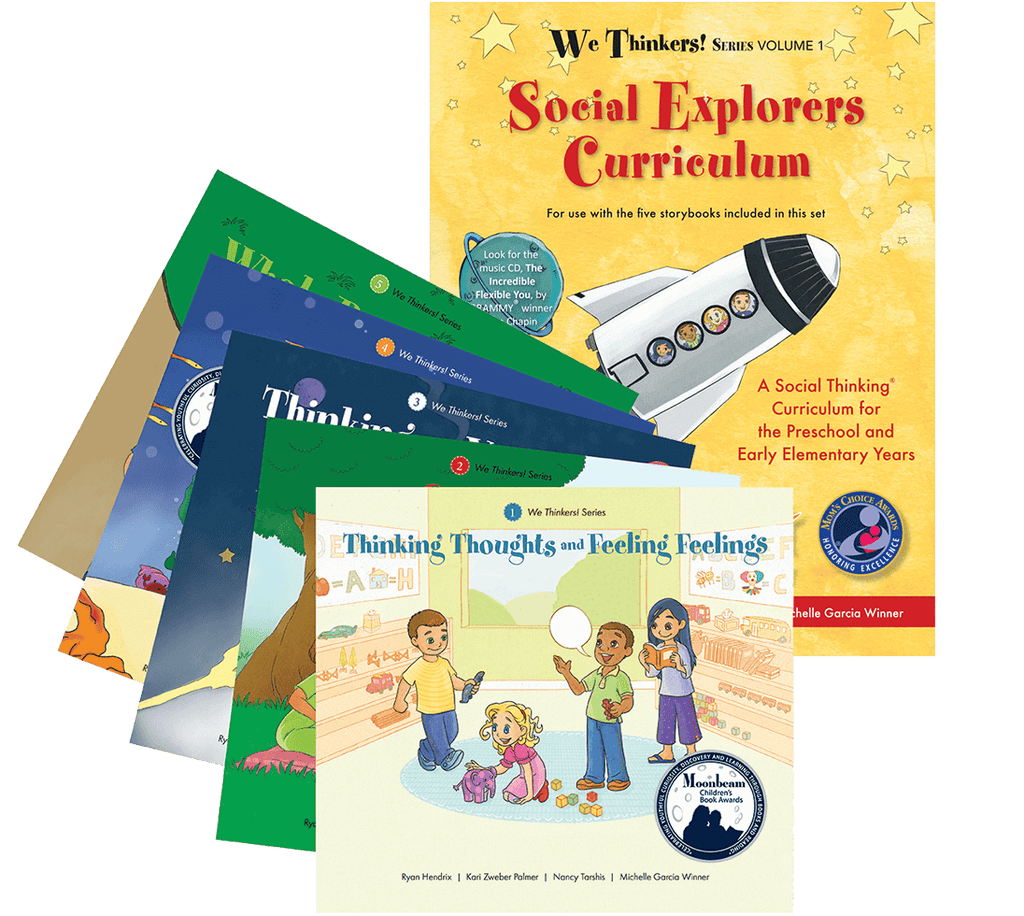 We Thinkers! Volume 1 - Social Explorers Deluxe Package
---
About the We Thinkers! Volume 1 Social Explorers Package
Download the Family Letter and At-Home Activities after purchasing to introduce you to Volume 1 and support your child's learning at home.
The highly acclaimed We Thinkers! series helps children build foundational social competencies and essential life skills through stories, lessons, and play activities. The teachings help kids better understand themselves and others, develop self-awareness, perspective taking, social problem solving, and supports students' social emotional learning, relationship building, classroom learning, and academic performance. The material is designed to be used with both neurotypically developing children and those with social emotional learning differences and/or challenges.
The series, which is broken into Volume 1 and Volume 2, is used and loved around the world by kids, parents, and professionals alike. Multiple award-winning We Thinkers! Volume 1 Social Explorers (previously titled Incredible Flexible You Volume 1) includes five storybooks and a thorough unit-by-unit curriculum. Lessons teach five evidence-informed concepts that establish a common social vocabulary for children and are foundational to all social experiences. The second volume, We Thinkers! Volume 2 Social Problem Solvers teaches five additional concepts that build off Volume 1. Since the concepts become increasingly more complex, it's important to teach Volume 1 concepts and curriculum before moving to Volume 2.
Get tips for teaching the series in our free webinar How to Use Social Thinking Materials to Teach Ages 4–7!
Five Engaging Storybooks
Join Evan, Molly, Jesse and Ellie on their adventures to familiar and far-off places (like outer space!) where they explore important social concepts through their thoughts and interactions. Each of the five colorfully-illustrated storybooks introduces kids to a different concept in an engaging way, to be followed by lessons and activities from the Social Explorers Curriculum (described below). The storybooks support the curriculum and are not stand-alone teaching tools. Extra sets sold separately below. The Volume 1 storybook titles reflect the concepts they teach:
Thinking Thoughts and Feeling Feelings (Classroom Adventure)

The Group Plan (Adventure on the Farm)

Thinking with Your Eyes (Adventure in Space)

Body in the Group (Ocean Adventure)

Whole Body Listening or Listening with Brain and Body (Zoo Adventure)
Comprehensive Curriculum
The Social Explorers Curriculum is packed with teaching material that links with the five storybooks to foster social-emotional learning and the development of social competencies in young children. Detailed instructional lessons—complete with Teaching Moment specifics, motivating structured activities, educational plan goals, and learn-at-home family letters—give educators, clinicians, counselors, and parents a substantial teaching package to use for years to come. We recommend teaching the curriculum and storybooks slowly. Our therapists spend one month on each concept to allow the children to deeply understand the concepts and apply them on a day-to-day basis.
Download the Fidelity Checklist
Music Sold Separately
Award-winning artists created 12 songs to make the We Thinkers! concepts come alive for kids. Get students up and moving, singing along, and actively participating with others as they integrate Social Thinking Vocabulary into everyday life. (The curriculum includes activities to teach with the songs, too!) Explore the music, sold separately.

Authors: Ryan Hendrix , Kari Zweber Palmer , Nancy Tarshis , Michelle Garcia Winner
Publisher: Think Social Publishing, Inc.
Format: Paperback
ISBN: 4001
---
Share this Product
---
More from this collection