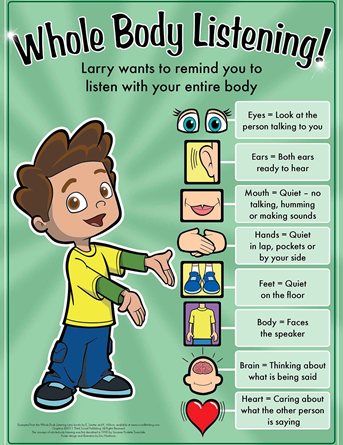 Whole Body Listening Poster
---
The Whole Body Listening Larry Poster provides a fun way to reinforce lessons of the Whole Body Listening Larry storybooks! It provides a visual for the concepts of "listening" with your eyes, your brain, your heart, etc. to keep your entire body properly engaged and aware of the people around you. The books, along with the poster, help to teach self-regulation to children who may be a bit wiggly! The Whole Body Listening Larry products are based on the idea of whole body listening created by Susanne Poulette Truesdale (1990).
Dimensions: 18" width x 24" length (457.20 mm x 609.60 mm)
Whole Body Listening: A Tool, Not a Rule
When it comes to listening, many children do not fully understand what is expected of them or may not be able to meet the expected demands. Whole body listening is an approach created to help kids learn how to improve their listening by doing certain expected behaviours. But this is a tool - not a rule. We know parts of this concept will be challenging for some of individuals. We continue to encourage these individuals to learn strategies to help them improve their whole body listening when compared to their own previous behaviour. The concept of Whole body listening is based on the idea that we can all listen to what is going on around us in a more meaningful manner.
For more on this topic and a list of strategies for how to calm down each body part, check out this article:
Taking a Deeper Look at Whole Body Listening: It's a Tool Not a Rule
Authors: Kristen Wilson, Elizabeth Sautter
Publisher: Think Social Publishing, Inc.
Format: Poster
ISBN: 9782403608885
---
Share this Product
---
More from this collection