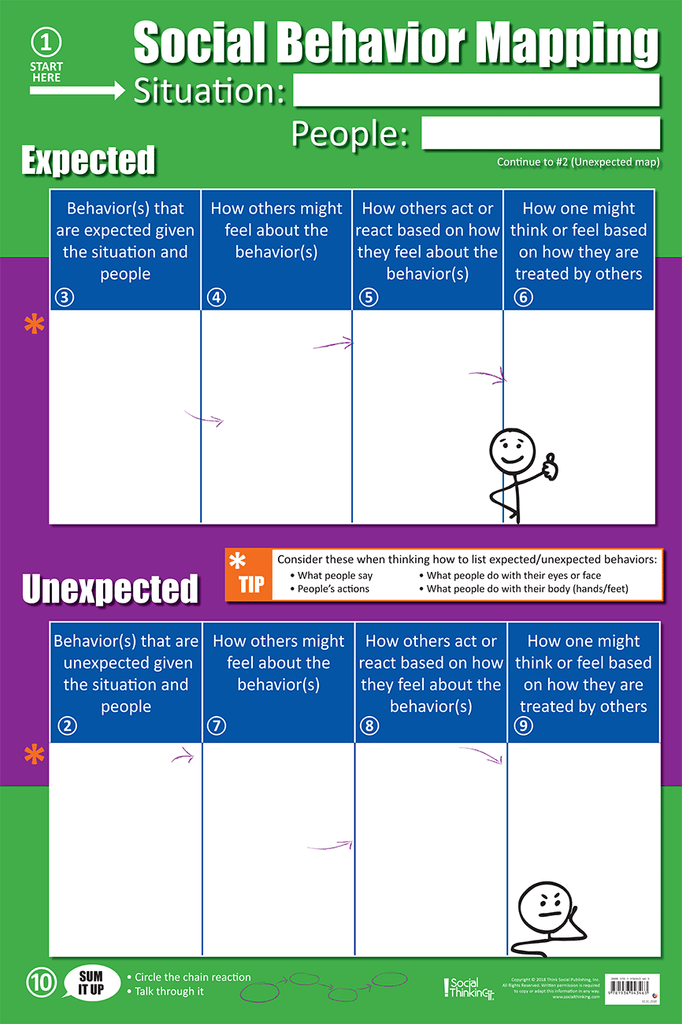 Social Behavior Mapping Template Poster - Dry Erase Surface
---
Take advantage of teachable moments! Social Behavior Maps allow you to explore with individuals how every situation contains unique behavioral expectations, how each person's behavior impacts the thoughts and feelings of others—and ultimately, how the user thinks and feels about themselves. (For more information on the Social Behavior Mapping framework, see below.) The dry-erase surface enables this poster to be used and reused across the day and across infinite contexts. It also outlines the 10-step teaching sequence to deepen the learning. 
To ensure the poster can be used again and again, use dry-erase markers only. Check out Social Behavior Mapping, a book full of completed maps to use as "cheat sheets" when teaching!
Check out our free Aha! Moment: 10 Steps to Teaching Social Behavior Mapping with Fidelity where Dr. Pam Crooke teaches best practices for working through a Social Behavior Map to enhance learning and improve fidelity.
Updated Design!

Social Behavior Mapping is a powerful tool when taught correctly. We've updated this dry-erase poster to guide you through the 10 steps of teaching Social Behavior Mapping with fidelity:
Numbers have been added to guide facilitators and students in following the sequence for working through the map to enhance learning

A "People" field has been added at the top to identify who is involved in the situation

A handy "Tip" section has been added to help inspire ideas when generating expected and unexpected behaviors

A "Sum It Up" prompt has been added as the final step to drive home the concepts

 
The Social Behavior Mapping Framework
What's happening around us influences our thoughts and feelings! Many people don't intuitively understand how their behavior affects the thoughts and feelings of others. Social Behavior Mapping, one of the most popular treatment frameworks within the Social Thinking Methodology, is a visual support showing the link between a person's behavior and the consequences they experience. It outlines a fundamental social concept: how we act in a specific situation affects how others feel, how we make others feel affects how they treat us, and how we are treated affects how we feel about others and, ultimately, about ourselves.
Many of our students are able to see expected and unexpected behaviors in others but struggle with recognizing and understanding how their own behaviors affect others. Social Behavior Maps help students figure out they have social judgements about others and that others have judgements about them. Social Behavior Mapping makes the complicated process of how we affect each other visual and concrete!
Authors: Michelle Garcia Winner
Published: 2018
Publisher: Think Social Publishing, Inc.
Format: Poster
ISBN: 9781936943463
Dimensions: 24" width x 36" length (609.60 mm x 914.40 mm)
---
Share this Product
---
More from this collection